With two of our tenants involved in the fashion industry, Broadway Studios can be a glitzy and glamorous place at times. But now it's taken on an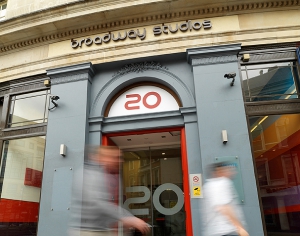 extra 'regal' sparkle.
The first of our tenants sparkling brightly is Stella & Dot, who design beautiful costume jewellery.
Stella & Dot has what one fashion blogger describes as "lustworthy jewellery for incredibly good prices."  It sells online but also encourages women to get involved by hosting 'trunk shows' for other women from their living rooms. The brand's expanding and going from strength to strength. I'm reliably informed that even Princess Eugenie is due to host her very own trunk show at Clarence House.
Stella & Dot has its head office in San Francisco, design studio in New York and its UK HQ here in W6. Stella & Dot Stylists in the US are able to win trips to Mexico and, as an extra incentive, all the pieces in the summer collection are named by the women who have won. They can even use their own names if they wish. As well as naming their designs, UK Stylists can win trips to sunny Marrakesh or Mykonos.
Bright lights have also been seen just along the corridor from Stella & Dot at TLG Brands  who have completed a fashion shoot for their latest collection. TLG distributes three leading fashion accessory labels: Fiorelli, Modalu and Nica. Reaching out to both the UK and International markets, TLG brands are stocked in over 1000 retail stores and independent boutiques. Since Pippa Middleton was spotted in a Modalu bag at Kate and Will's wedding, worldwide sales have rocketed.
We're not sure who's on the guest list for Princess Eugenie's trunk show at Clarence House but next time you see a member of the Royal family remember that their jewellery – and their handbag – might just have come via Hammersmith.
---