Phoenix Distribution Park in Heston has a fascinating history.
Today, Phoenix Distribution Park is a hub of activity, owned and managed by the Sapcote Group which has built its reputation on working closely with tenants to enable them to be the best they can in their chosen field of business.
Situated behind Heston Services on the M4 and within minutes of the M25 and international freight facilities at Heathrow, the site on Phoenix Way is the perfect location for businesses needing fast, easy access to the UK motorway network and beyond.
Phoenix Distribution Park was built on part of the disused Heston Aerodrome.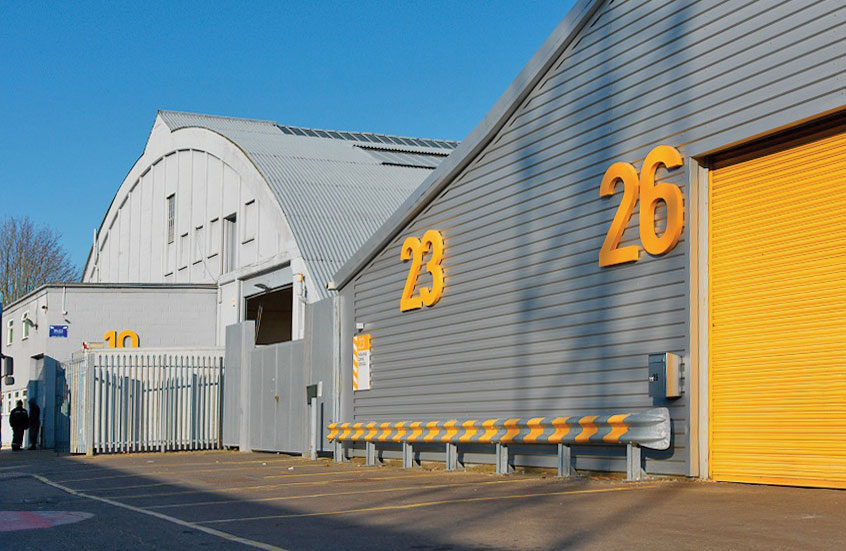 The aerodrome was also home to the Heston Aviation Company, manufacturers of the Heston Phoenix that went on to modify Spitfires during WWII.
Sapcote's tenants include Magna Foodservices whose founder Khalid Mirza started working for his father at their fish and chip shop when he was just 14. He now runs a multi-national business, with interests ranging from restaurants to food distribution and has become one of the largest suppliers in the halal food sector.
Khalid says "My company is more than just a supplier. I employ 45 local people at this vicinity and they are all dedicated in making our customers achieve the best outcomes in terms of quality, product and customer service.
"Working with Sapcote over the many years we have been here is brilliant.  The site manager Brian Delaney, who has managed it since 1998 takes huge pride in making sure it is clean, refurbished when needed and above everything else totally secure."
Another tenant, ICE London Display, employs four staff to produce some of the most iconic display material seen at events, including signage for Formula 1 races and the iconic Brit Awards.  ICE moved to Phoenix Way in 2009.
With over 75 years collective experience between them, the team offers products and services across a huge spectrum from large format installations at the Brits and Formula 1 to pop-up graphics for start-ups.
Owner Robin Begley says: "This location is perfect for us with the motorways connections on our door-step. The unit is totally secure 24/7 which is an added bonus when we have to do an all-nighter."
Sovereign Cars have been at Phoenix Park since 2010. The company specialises in four key services: celebrity red carpet, business, corporate events and wedding chauffeur service.  The company philosophy is to deliver the most luxurious professional and reliable chauffeur service in the market. Cars range from Mercedes, Bentleys, Jaguars, Range Rovers through to Rolls-Royces.  Each vehicle is beautifully maintained to showroom condition.
Mark Hussey from Sovereign says: "The location and security really work for us as an organisation. We are close to the centre of London and the fact that here is genuine 24 hour security gives us peace of mind."
---