Sapcote Group plc, which recently sold its flagship Power Road Studios building to Helical plc for £34.2 million, is tasting success following their acquisition of freehold premises in prime restaurant locations across London.
Sapcote's portfolio already includes restaurants in Hammersmith, Islington and Camden and now includes two of Soho's best known buildings: The Nellie Dean on Dean Street and the former print works at 68-70 Wardour street, now occupied by the Barcelona-born tapas bar and restaurant chain, MasQMenos.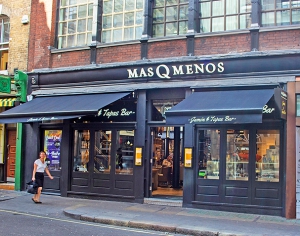 68-70 Wardour Street is a particular coup. The rarely available property comprises 224.6 sq metres (2,417 sq ft) ground floor and basement and a long leasehold interest was acquired for £4,348,000. Now, the underlying freehold interest in the building has also been acquired, for a nominal sum of £1, subject to long leasehold interests in the newly converted apartments on the upper levels.
In the heart of London's West End, the energetic streets of Soho, with their eclectic mix of creative businesses, dining, nightlife and shopping, suits Sapcote's rather well. And although the Sapcote's portfolio still includes premium office space at Broadway Studios, Hammersmith, 68-70 Wardour Street is a strong indicator of the direction the business is moving in.
"Even before the sale of Power Road we had built up a prestigious and varied commercial property portfolio in London and the south and south west of England." said James Millar, Director. "Agents and vendors are finding our approach to these acquisitions a breath of fresh air. Because we're a family-run business, we're not bogged down by a long chain of decision makers, or answerable to fund managers and investors. When we see an opportunity, we move quickly and we keep our word. We have finance 'on tap' and we're flexible and agile enough to complete a deal in just 7 days – from initial details to completion."
---